See how easy consigning with Belles and Beaus can be. View our training document by clicking here.
The document above was created using Adobe Acrobat Reader. If you do not have Adobe Acrobat Reader, click

to go to the website where you may download it for free.

*** Please gather your items early and tag a little bit at the time. Get a head start and make your items look their best! Walmart in Lexington has stocked up on safety pins, string tags and drip dry hangers. Buy them now, while the supply is available!



Select, Tag and Price Yourself Online-

Earn 70%

Follow These Directions:
1. GET PRICE TAGS
Price tags may be purchased at Office Depot, Wal-Mart, Staples or other office supply stores.
At Office Depot: Maco White String Tags, part # 11-204, 1 3/32 in. x 1 3/4 in., Pack Of 500.
At Wal-Mart: String Tags, 1 3/4 in. x 1 3/32 in., Pack Of 100 (about $1.80)
They must be this size: 1 3/32 in. x 1 3/4 in. They come in bunches of 100 or 500.
2. GATHER AND ORGANIZE the items you are selling.
The more organized you are, the quicker Drop Off will be! Best you can, order your items by GENDER and SIZE before you start.
3. PREPARE your items.
Visit our "Items Accepted" page for more information on our standards before beginning.
Wash, remove stains, iron, repair buttons, gather loose pieces of toys and do whatever is necessary to ensure that your items are in excellent condition. Items will be returned that do not meet our strict guidelines.
HANGERS: All clothing must be clean, pressed and on hangers. Price accordingly. No spit up stains or holes and all snaps, buttons and zippers must work. 100% cotton sleepers only. The others will not sell. We recommend kids wire hangers for clothing under size 4T. If wire hangers cannot be found, you may use sturdy plastic hangers. Do not use toddler pant hangers. They will not hold the clothing securely enough. Adult sized wire hangers are preferred on clothing size 5 and above. Thick plastic hangers are fine if you cannot find wire hangers that fit. Thin plastic hangers break and clothing winds up on the floor. If this happens, someone could step on it and it would get dirty. Therefore, no one will want to purchase the dirty/soiled item. It is better to purchase the good hangers and be sure that your clothing will stay where it needs to stay in order to sell. The hook should be facing left if looking at it. The tag should be pinned to the top right shoulder of the garment as you face it. Pin clothing sets together on one hanger, with the pants or skirt pinned to the outside so both pieces can be viewed. Pin pants or skirts onto the top side of the hanger to keep them from sliding to one side. When you tip the hanger, they should not move. Please see example pictures below. Pin matching accessories (hat, socks, headband, etc.) to shirt, but separate from the tag. Make note of accessories on the tag description or attach an index card with more information if you need to. Appearance is everything! Please button all buttons, snap all snaps and zip all zippers. If your clothes look neat and are ironed, they will sell better.
| | |
| --- | --- |
| | Hanger should look like a question mark when you are looking at the front of the garment. |
ITEMS OTHER THAN CLOTHING:

Group small items together in a zip-lock bag. Pin the tag to the outside of the bag as above. Tape bag closed with clear packing tape to keep little hands out. Attach shoes to each other using pins, string or ribbon and attach your tag to the shoes as above. Tags can be pinned to item used to hold them together. We suggest that you place masking tape with your consignor number and the price on the bottom of each shoe in addition to the tag. This helps identify your item in case the tag is lost or the shoes are separated. Use heavy, clear packing tape to attach the string part of the tags to non-clothing items. Scotch tape and masking tape will not hold and your tag may become lost. Books should be placed in Zip-lock bags with bag taped closed. Only top quality books with no missing pages, torn pages or coloring accepted. We suggest that you place masking tape with your consignor number and price on each large item (toys, cribs, strollers, etc.) in addition to the information on your tag. This helps to identify your item in case the tag is lost.
4. COMPUTER ENTRY (It's easy & quick & fun!)
Gather your clothing in a neat pile beside you at the computer.

Register and Train - Clicking "Register" below will allow you to signup as a first time consignor. You will be asked for your name, address, phone number, email and you will choose a password (write this down.) You will then be asked to complete some "training" screens to assure that we are on the same wavelength regarding quality, pricing and organization. Once you finish, you will be given a Consignor ID and a Batch number (write these down!!)

Enter a clear and precise description and price for each of your items. Do this carefully and accurately. We recommend pricing your items between 1/3 and 1/4 their original price depending on age and quality. You will be able to save your work and come back to it later if you'd like.

On your last entry screen before we print your labels for you, you may choose if you would like to DONATE items which do not sell. You will be able to choose NONE, ALL or select certain items to donate after the sale should they not sell.

PRINT your inventory sheet.
You can print this after you finish the Donate Screen, or go back to the Check Sales button and pull up your batch. IT IS NECESSARY TO BRING YOUR INVENTORY SHEET WITH YOU TO DROP OFF IN ORDER FOR YOUR ITEMS TO BE GUARANTEED.
TAG AND NUMBER your items:

Once you have priced your garments and have a listing on the website, safety pin a string tag to each garment. To help you keep your items in order, you may write the assigned number given on your inventory list onto each corresponding tag.

PINS: Use medium to large safety pins only. No small gold pins or straight pins. They will fall off. Attach safety pin through the string on the card.
5. DROP OFF
Drop off your items at the Ball Park Road Gym by appointment only.
Make your appointment time
here...click below
When you come to the gym with your items and string tags attached, we will have your barcoded price labels printed out for you if you have not already picked those up.

Make sure and bring your items in numerical order according to your inventory list to make this process quick and easy.

You will need to attach

your labels to your string tags prior to having them checked in.

After your items are checked for quality and any items unaccepted are returned to you, an assistant will help you place them on the sales floor. Please allow at least 30 minutes for Drop Off depending on the number of items you are bringing if you have not already placed your price labels. If you already have your labels attached to your string tags and they are in order according to your inventory list, drop off may take 15 minutes or less.
6. PICK UP DAY

Pick Up and Pay Day will be on Tuesday after the sale is over. This is very important since we can't store your items. A participation fee of $7.00 will automatically be deducted from your check. Checks will be available to consignors who sold items on pick up and pay day. If you desire for your check to be mailed to you, we can do that the day after pick up and pay day. Please make sure you fill out an envelope when you drop off your items.

ALL ITEMS LEFT AFTER 6:30 pm WILL BE DONATED, SINCE WE HAVE TO BE OUT OF THE FACILITY.

The process is simple once you become familiar with it!

Also remember, consignors may shop early. Consignors have a presale party all to themselves. Consignors are also invited to attend the HALF PRICE presale.

*** One of the reasons our sale has become such a success is you - our consignors and our workers. If you are interested in working a 3 hour shift during the sale, you will be invited to our Volunteer ONLY presale night. Volunteers shop first! See our "volunteer" page for more information and to sign up to work.

You will need:

A computer to enter your items online. You can use the library for this if necessary, or borrow a friend's and you can do your tagging together. You will need to purchase medium to large safety pins (straight pins and little gold pins will not be accepted) , String Tags SIZE 1 3/32 in. x 1 3/4 in., children's and/or adult wire hangers (preferred), Ziploc bags, Zip ties, CLEAR Saran Wrap, clear packing tape and masking tape. You may also get adult sized wire hangers from your dry cleaner. They will usually give you a moderate amount of them if you ask. Some consignors go as far as to attach a picture/description of an item from a catalog or off of the internet to show the bargain that the buyer is getting. This may be helpful for large items such as crib sets, strollers or bedding. *Remember* If you are unsure about the acceptability of an item, please contact us here. Give yourself plenty of time to tag, as it may take a while. Online tagging can be completed a little at a time, but must be completed in advance of the sale. Since we will be providing your printed barcode labels for you, we will need to have your information entered as soon as possible.

The deadline for entering in your information is midnight on Saturday before the sale begins. , but please do not wait until the last minute. A little extra attention before the sale will help your items to sell much better. Appearance is everything.

Thank you and happy tagging.

Sizing information for clothes with missing tags.
For babies and toddlers, weight is the best size determinant. For children, height is the best determinant.
Newborns
| | | |
| --- | --- | --- |
| Sizes | Weight | Height |
| 0-3 months | 0-10 lbs | 0-22" |
| 6 months | 11-15 lbs | 22-24" |
| 9 months | 14-16 lbs | 24-25" |
Infants
| | | |
| --- | --- | --- |
| 12 months | 16-20 lbs | 25-27" |
| 18 months | 21-24 lbs | 27-30" |
| 24 months | 25-28 lbs | 30-33" |
Toddlers
| | | |
| --- | --- | --- |
| 2T | 25-28 lbs | 33-34" |
| 3T | 29-32 lbs | 35-36" |
| 4T | 33-36 lbs | 37-38" |
Older boys and girls
| | | |
| --- | --- | --- |
| 4 | 35-38 lbs | 39-40" |
| 5 | 39-41 lbs | 41-43" |
| 6 | 42-46 lbs | 44-46" |
| 6X | 47-53 lbs | 47-48" |
| 7 | 54-57 lbs | 49-51" |
| 8 | 58-63 lbs | 52-53" |
| 10 | 64-72 lbs | 54-55" |
| 12 | 73-80 lbs | 56-57" |
| 14 | 81-90 lbs | 58-59" |
Shoe Size Conversion Chart
These conversions are approximate equivalents and should only be used as a guide. For best results, children must be properly measured and fitted.
| | | | |
| --- | --- | --- | --- |
| European size | US size | European size | US size |
| 17 | 2 ? | 27 | 10 |
| 18 | 3 ? | 28 | 10 ? |
| 19 | 4 | 29 | 11 ? |
| 20 | 5 | 30 | 12 |
| 21 | 5 ? | 31 | 13 |
| 22 | 6 ? | 32 | 1 |
| 23 | 7 | 33 | 1 ? |
| 24 | 8 | 34 | 2 |
| 25 | 8 ? | 35 | 3 |
| 26 | 9 | 36 | 4 |
Use the following websites to help you check toy prices:
Pictures of items tagged and hung correctly:
Items hung on wire hangers with hook pointing to the left. Tag on right shoulder if looking at it.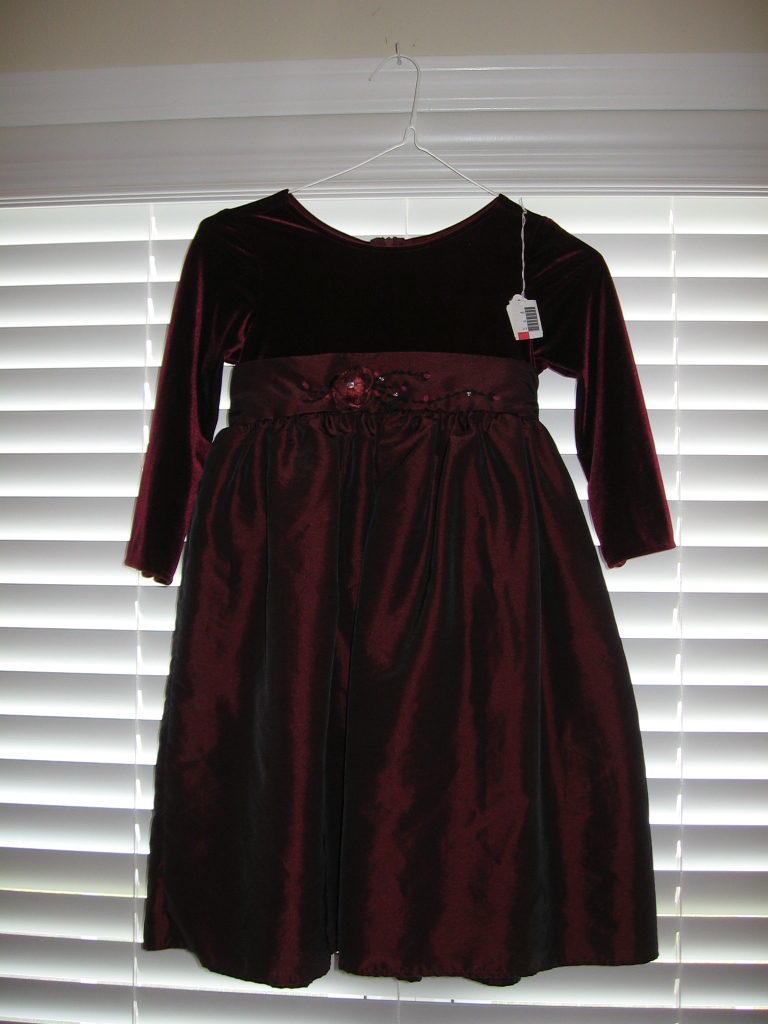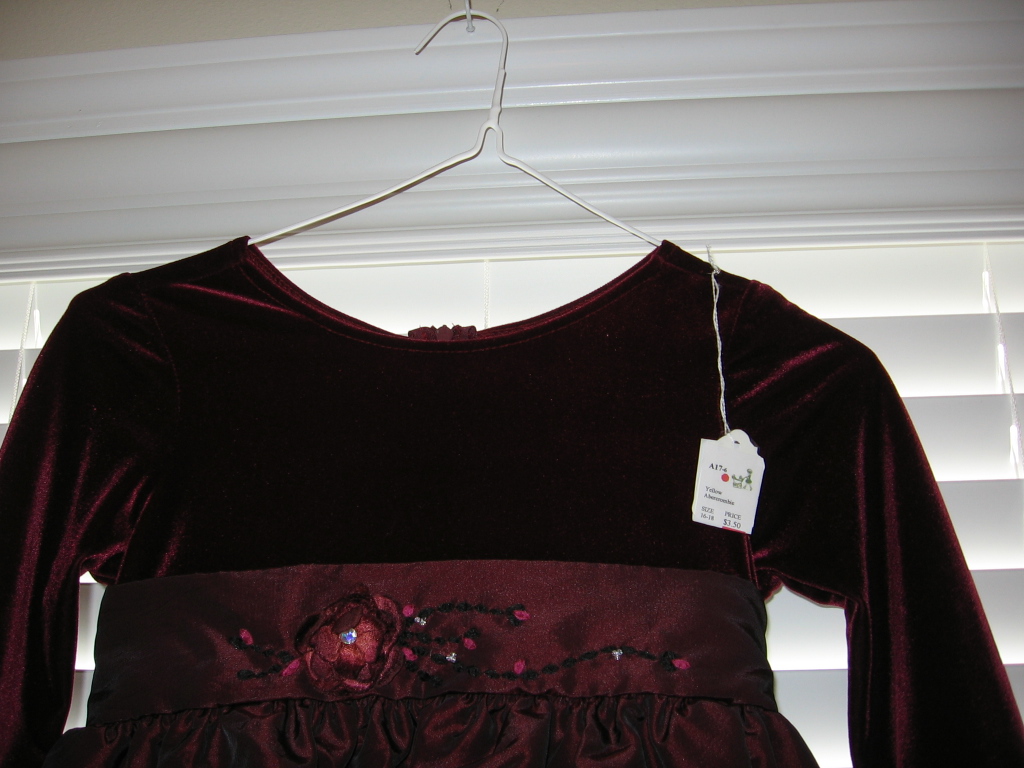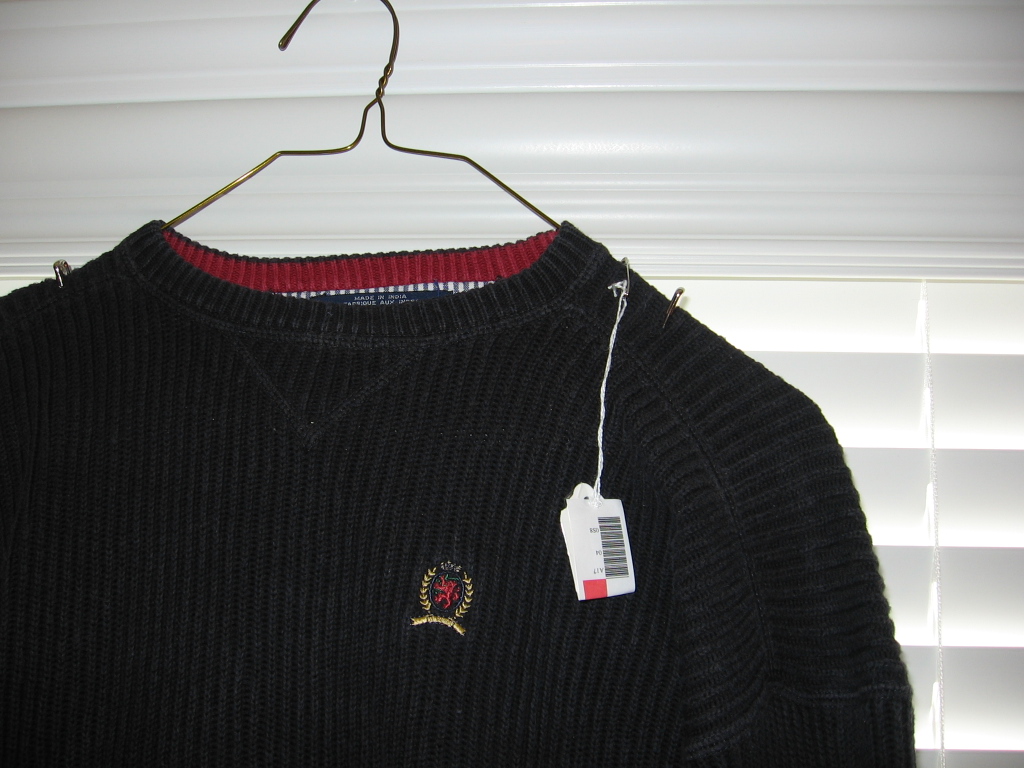 Back of the outfit with pants hung from the top part of the hanger with safety pins so the top and bottoms can be viewed easily. Tape Ziploc bags closed with packing tape and pin tag on with safety pin.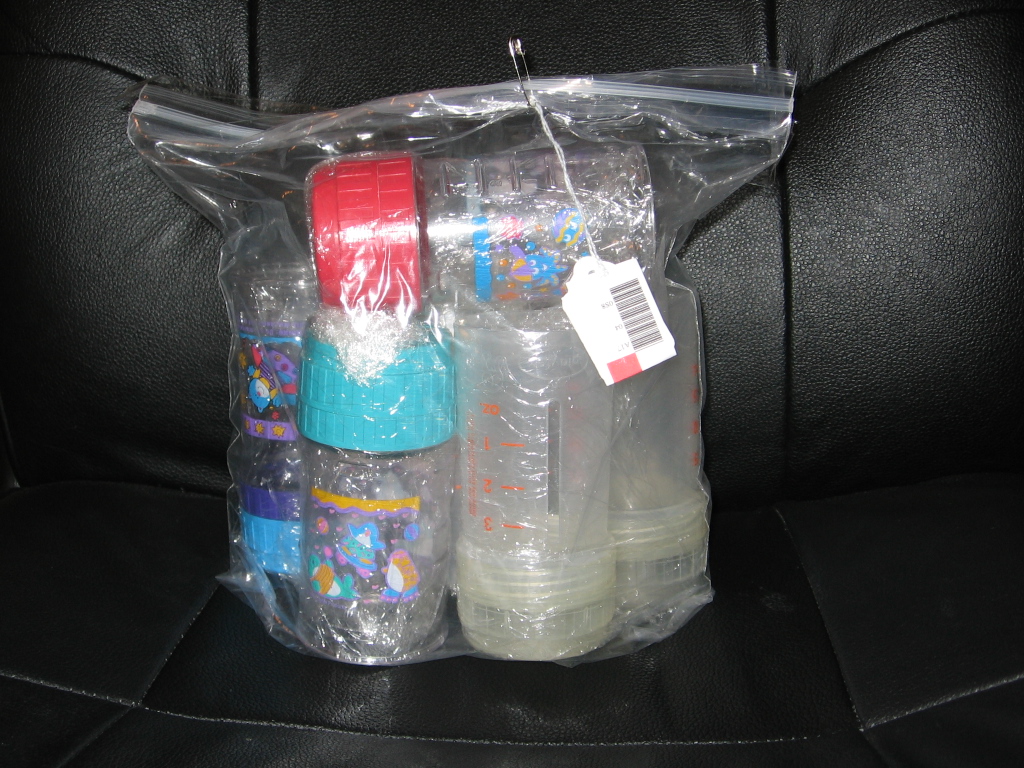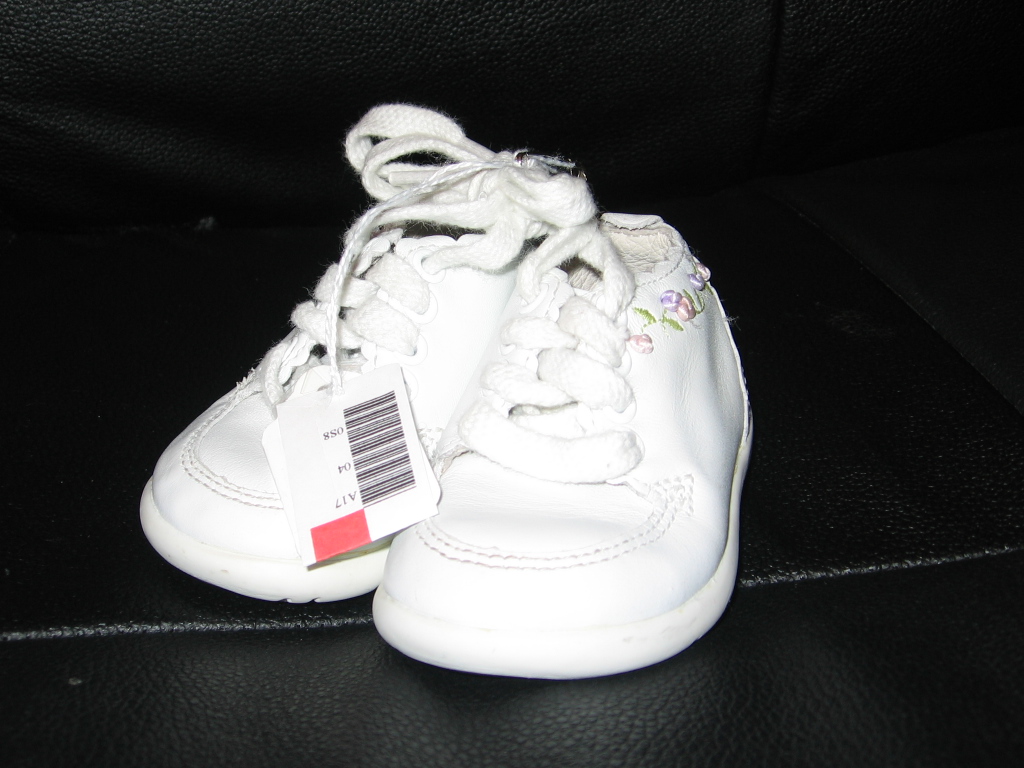 If pants are hung alone on a hanger, pin through the pockets along the top side of the hanger to hold them securely. This will make sure they keep their shape and are more attractive to the shopper. Pants that slide around and are bunched together at the bottom of the hanger do not tend to sell as well.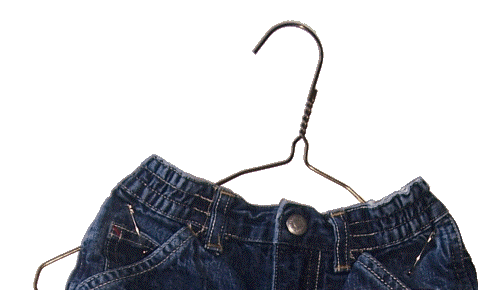 DONATIONS:
All donations will go to benefit needy families in Lexington. I hope you will consider this, but it is optional. Please double check all tags for accuracy. We will not be responsible for mis-tagged or mis-priced items or items without tags. Please follow pricing guidelines to the tee!