Volunteers Needed and Appreciated!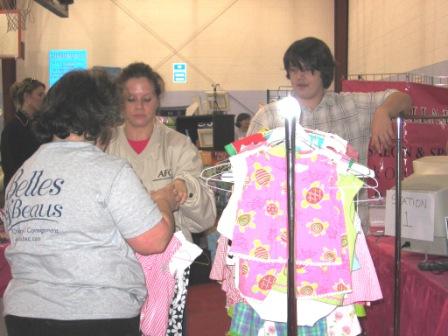 Volunteers are what make our sale so wonderful for all of our shoppers and consignors. Giving a little bit of your time before or at the sale, will earn you some great rewards! Best of all, Volunteers get to shop FIRST! Since you all give us so much, we have created a Volunteer Preview Party Night EXCLUSIVELY for you!! Only Volunteers will shop on this night. This very special privilege is well deserved. Thank you for all that you do!
There are 3 different entry times for volunteers on Presale Night. This is determined by how you volunteer. If you are able to work during the sale, you have the opportunity of receiving a 5 p.m. entry ticket if you work 3 shifts, a 6 p.m. entry ticket if you work 2 shifts or volunteer to bring a meal or a 7 p.m. entry ticket if you work 1 shift. All other volunteer opportunities listed below will provide you with 1 or 2, 7 p.m. entry ticket(s) unless otherwise noted.
We will be accepting volunteers for the below mentioned services on a 1st come,1st serve basis You do not need to consign with us in order to be a volunteer. Some of the opportunities take place before the sale and some are during the sale. If you are interested, please fill out the form below and have your choice.
If there is something else that you feel we could BARTER with you in exchange for a volunteer pass, please email me with your suggestion and I will get back to you as soon as possible. Thank you for being so giving of your time and talents!
PLEASE CONTACT DEBBIE AT (803) 237-3286 if you have any questions or special circumstances.
Newspaper, TV or Radio Coverage: Do you know someone "in the business" or can you pull some strings to get us an interview the week of the sale? Help us publicize the sale in this special way and you will receive 2, 5 p.m. presale party passes. Email us here with your contact and what they are willing to do for us.
Snacks/drinks: Our volunteers work very hard and many hours at the sale. Providing us with snacks and drinks for them is a true blessing. Please click here for a list of items that we need. Each choice is worth 1, 7 p.m. volunteer presale pass.
Meals: Our staff works many long hours at the sale and most of the time we are not able to leave and pick up something to eat. We need meals that will be enough to serve 8 hungry staff members during each day of the sale. Team up with a friend to provide one of the following meals (each of you could make a meal for 4 people) and get 2, 6 p.m. volunteer presale passes. Click here for a list of meals and times.

Flyer and poster distribution: We need posters and flyers distributed to area childcare centers. These areas are predetermined. You will need to call the centers that we identify for you and get permission to distribute and the number of flyers and posters they will need. You will pick them up from us and then take them to the locations in a timely manner. For every 10 locations that you distribute to, you will get 1, 7 p.m. volunteer presale pass. Email us here if you are interested in helping with this volunteer opportunity.
Working the sale: Now more than ever, we appreciate those of you who can give a little of your time to help us work the sale! We need your help! For that reason, we have come up with some special privileges for those of you who are able to be there for us and help us meet the needs of the families that we serve. Our sale is only as good as our workers!! Click the link below for a list of times! Each sale shift that you work will provide you with 1, 7 p.m. presale pass. Can you work more than 1 shift? See below for a special shopping opportunity!Click here for a list of times available to volunteer. If the shift is highlighted in gray, it has already been filled. Please make childcare arrangements as children may not accompany you during your shift at the sale. This is for their safety.
BONUS!!!

Okay, all of you hard working ladies...this one is just for you.

If you volunteer to work 3 sale shifts, you will get into the Volunteer ONLY Presale on Wednesday, March 10th FIRST at 5 PM! All shifts combined must total 9 hours or more, **THE SHIFT TIMES MUST NOT OVERLAP** (each shift varies depending on the day). You may also choose to do 3 volunteer opportunities and trade in 3, 7 p.m. passes for a 5 p.m. pass. Choose what is best for you!

Work 1 sale shift (3 to 4 hours)- Get an entry ticket for 7 p.m.

Work 2 sale shifts (6 to 7 hours) - Get an entry ticket for 6 p.m.

Work 3 sale shifts (9 or more hours) - Get an entry ticket for 5 p.m.

IMPORTANT NOTICE:

In an effort to ensure the quality of the sale by retaining a sufficient number of volunteer workers, Belles and Beaus will require that workers fulfill their pledged obligation to work their assigned shift or successfully complete their duty given prior to the sale. In the event a worker does not fulfill their obligation or find a suitable replacement on their behalf, the worker will not be allowed to participate as a volunteer worker again or participate in any future Volunteer Preview Parties. Some extenuating circumstances will be considered (such as a death in the family). Please understand that these guidelines have been created in an effort to maintain a high quality sale. Workers must be on time and fulfill their entire shift in order to reap the benefits of the Volunteer Preview Party. Thank you for your help. You are what makes our sale so great! We really appreciate your willingness to help and must be fair and consistent with all of our workers. Thank you for giving so much to us!

Please contact us by email if you do not hear from us within 24 hours of submitting your information. Apparently, some forms will not reach us from time to time. Thank you for your understanding!

Volunteer Form

*Required

*Name:

*Address:

*City:

*State:

*Zip:

*Home Phone:

Cell Phone:

*Email:

*I would like to volunteer for the following task: